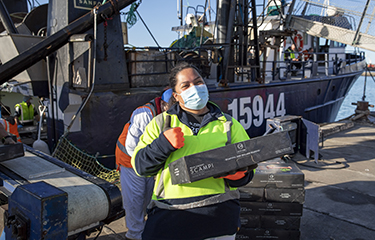 New Zealand-based Sandford Limited is entering the new year with a re-invigorated effort to move past the Covid-19 pandemic after posting strong results for fiscal 2022 and making NZD 50 million (USD 31.9 million, EUR 29 million) in new investments.
As 2022 came to a close, New Zealand's oldest and largest seafood firm announced it opened a NZD 20 million (USD 12.7 million, EUR 11.8 million) facility to explore the latest developments in marine extracts. It also announced an investment of roughly NZD 30 million (USD 19.1 million, EUR 17.8 million) into a new low emission hybrid diesel/electric power scampi fishing vessel that will play a role in reducing the company's carbon footprint once it comes into operation.
In November, the company posted its full-year 2022 results, which highlighted increased profitability and a reduction in net debt.
While the company has yet to return to its pre-Covid profit levels, group revenue reached NZD 531.9 million (USD 339.1 million, EUR 315.6 million) in fiscal 2022, up 8.6 percent from NZD 489.6 million (USD 339 million, EUR 315.6 million) reported in FY2021. The company said the boost in revenue was driven by improved demand and a recovery in global markets and prices, particularly with whitefish.
Company after-tax profit, padded with a sale of crayfish quota, hit NZD 55.8 million (USD 35.5 million, EUR 33.1 million) – an increase from NZD 39.6 million (USD 25.2 million, EUR 23.5 million) in 2021.
"We needed to ensure we were in the right position to take advantage of lifting global demand," Sanford Limited Chief Executive Peter Reidie said after the company posted its 2021 results. "We have done that by being careful about our spending and very focused on our relationships in the diverse global markets we sell to."
FY22 sales revenue for the company's wildcatch division were up nearly 9 percent, contributing to just under two thirds of the company's profits, while revenue of its mussels business slid 4.4 percent from the previous year, with the company citing a tight labor market and carryover effects from a recent drop in prices. Salmon revenues, meanwhile, grew to contribute just over 20.6 percent to profits.
Sanford Limited's net debt was reduced by nearly 20 percent to NZD 145.5 million (USD 92.8 million, EUR 86.3 million), and the company was able to pay shareholders a dividend in December while making NZD 53.8 million (USD 34.3 million, EUR 31.9 million) in capital investments.
"We have not yet got back to our pre-Covid levels of profitability, but we have clearly turned the corner and it is pleasing to be growing and paying a dividend again," Reidie said.
Sanford had been deeply affected by the economic fallout of the pandemic, with its profits falling by almost 50 percent in 2020. But now with an improving bottom line, the company is demonstrating it is moving past the turmoil of the previous two years.
In laying out the rationale for its NZD 20 million (USD 12.7 million, EUR 11.8 million) investment in marine extracts , the company said it seeks to capitalize on the latest advancements in the sector as well as new developments in manufacturing.
Sanford's general manager of Innovation Andrew Stanley said the recently-opened facility, which is located in Blenheim, South Island, will have the potential to greatly expand output of existing products.
"Our new Bioactives center introduces new tech and equipment which gives us a chance to double and eventually quadruple our output," Stanley said. "Secondly, there are the new areas of marine extracts and science we are going to explore."
Stanley added the company made the investment with knowledge of potential advancements in extracting additional value.
"We already know quite a bit about some of their hidden properties and we will be working to discover more," he said.
In addition to its investment in marine extracts research and development, Sanford – which currently holds almost 20 percent of New Zealand's commercial fishing quota – plans to add additional vessels to its existing fleet of 15 deepwater and inshore vessels.
The company announced in December it has entered into a contract with Netherlands-based Damen Shipbuilding Maaskant for the design and build of a new scampi vessel, which is expected to be delivered in 2025.
The hybrid diesel/electric vessel, valued at NZD 30 million (USD 19.1 million, EUR 17.8 million), is expected to operate in the Southern Ocean and will play a role in Sanford's goal to reduce its carbon footprint from direct operations by 25 percent between 2020 and 2030.
The company originally planned for three such vessels, but had pared down its investment to stay in line with a more conservative spending strategy after posting its FY22 results.
"This exciting new vessel build signals our intention to invest in our core business, to improve our efficiency and environmental performance of our fleet. It strengthens our ability to supply exceptional New Zealand seafood both domestically and to the rest of the world," Sandford Limited Chairman Robert McLeod.
In June, Sanford released a new business strategy which prioritizes growth in its salmon and mussels divisions, which Reidie said will keep the company on its growth trajectory despite significant headwinds both within the industry and externally.
"Sanford has never been without its challenges. Supply chain constraints are ongoing, labor remains an issue despite our concentrated efforts, and we operate in a world with many geo-political uncertainties," he said. "Plus, we continue to be dependent on mother nature for our beautiful seafood. But I am confident we are building a sustainably stronger and more consistent company, which I believe has the ability to grow profitability beyond pre-Covid levels."  
Photo courtesy of Sanford Limited