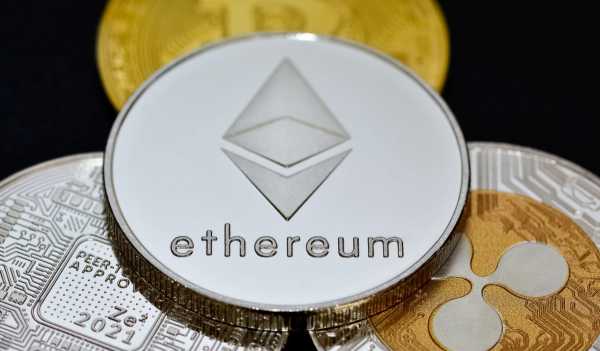 Five-wave Rallies and Three-wave Pullbacks Continue
Using the Elliott Wave Principle (EWP), it appears since the November low, and after the FTX/Alameda debacle, Ethereum (ETH) has been moving in five waves up and three waves down. As such, the possibility for a new Bull run to new all-time highs continues. Figure 1 below shows the daily chart for ETH with a bullish EWP count. Please read more about these EWP terms here.
In this case, the blue Primary-IV wave was low in June 2022. A red leading diagonal W-i into the August '22 high followed. And a double zigzag red W-ii into the November low completed. Now ETH should be working on green W-1 of red W-iii after having bottomed in the ideal target zone for grey W-ii, which I had previously outlined to my premium members.
ETH must continue to follow along the grey dotted arrows to allow for the completion of this potential. If it fails to do so and falls back below the December low (grey W-ii), it opens a whole can of worms.
Figure 1. Ethereum daily chart with detailed EWP count and technical indicators.
Now you may think, "oh, another one of those 'so it can go up or down' " forecasts. In a sense, you are correct but also incorrect. Namely, financial markets, including cryptocurrencies, are probabilistic, like life in general. For example, just because you woke up this morning doesn't guarantee you will go to bed this evening. You could die in a car accident.
Although there is a slight chance it will happen, it is realistic. Financial markets are now different. Though not as dramatic, one can say by using the EWP; we can foretell if the markets will go to bed. Namely, based on the EWP rules and a limited set of associated patterns, the price action objectively provides clues.
When ETH's price begins to act out of the norm for the pattern we are tracking, in this case, an impulse, it often gives us clues that something else is playing out well before that can harm our accounts. This could be one of those instances. But I digress.
The Bullish Resolution Continues, but $1074 Needs to Hold
Our primary expectation will get invalidated on a break below the November 22, '22, low at $1074.40. Why? Because in the potential impulse path shown in Figure 1, the price of ETH cannot make a lower low. The Bullish thesis will already be severely compromised on a break below the December 19, '22, low at $1152.53.
Thus, from a trading perspective, these levels can be used as stop levels against any long position. Why? Because if ETH's price drops below those levels, the Ending Diagonal 5th wave option to as low as the mid-500s becomes operational. See Figure 2 below.
Figure 2. Ethereum weekly chart with detailed EWP count and technical indicators.
Thus, the Bulls are still not out of the woods yet. The first order is to break out above the December 2022 highs ($1350) in an impulse fashion (five waves), ideally targeting the November 2022 highs at around $1675. If they fail to do so and allow the price of ETH to fall below these same months' lows, then the Bears have a shot at taking ETH down to the mid-$500s before a significant relief rally can be expected.