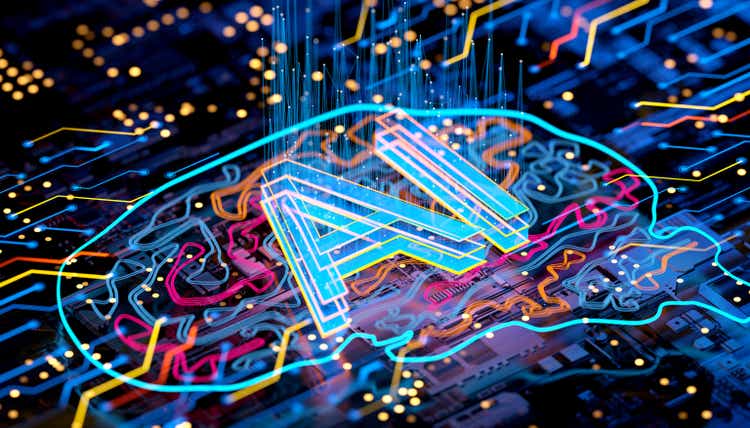 The artificial intelligence market remained active this week, as C3.ai (NYSE:AI) and Broadcom (AVGO) both reported quarterly results that got on investors' good sides, in part due to those companies' opportunities in AI technology.
But, before getting to those two, let's take a look at Apple (NASDAQ:AAPL).
Apple (AAPL) didn't do anything to incorporate AI into its products, software or services. What it did do what clamp down on BlueMail, an email app that uses ChatGPT, currently the best-known of AI technologies. Apple (AAPL) put the brakes on an update to BlueMail app in its App Store on the grounds that its customizes ChatGPT language model, called GPT-3 opens the app up to potentially delivering inappropriate content to minors.
BlueMail's app comes with an age-restriction level of 4 years and younger; Apple (AAPL) has asked Blix, the company that developed BlueMail, to raised the app's age level to 17.
Meanwhile, Apple (AAPL), along with Microsoft (MSFT) and Nvidia (NVDA), got some high marks regarding AI from Bank of America, which came out with a list of 15 companies that are "likely beneficiaries" of AI technology.
BofA said Apple (AAPL) is in a good position due to licensing the search engine on its iOS mobile device operating systems. Microsoft (MSFT) got props for its integration of OpenAI, the company behind ChatGPT technology, and Nvidia (NVDA) was cited for its graphics processing units [GPUs] being used to build up the AI arms race.
Google (NASDAQ:GOOG) parent company Alphabet (GOOG) also received notice from BofA for its DeepMind Sparrow Large Language Model [LLM] and its Bard Chatbot.
Meanwhile, Barclay's analyst Ross Sandler added that despite facing numerous challenges from its rivals, Google (GOOG) remains "years ahead" with its AI technologies.
Communications chipmaker Broadcom (AVGO) saw its shares get a boost following its strong first-quarter results and outlook, and its new moves into the generative AI market. Bank of America analyst Vivek Arya said that due to factors such as its stock's price-to-earnings ratio, Broadcom (AVGO) "provides perhaps the most compellingly valued exposure to the fast-growing generative AI market."
C3.ai (AI), the artificial intelligence company headed up by tech-industry legend Thomas Siebel, saw what investors thought of its story, as the company's shares climbed almost 34% on Friday. The impetus following its better-than-expected fiscal third-quarter earnings that led Wedbush analyst Dan Ives to say C3.ai (AI) is "walking the walk" with its AI-focused business.
And Snap (SNAP) got into the AI game by showing of My AI, a new chatbot it has developed, and which is based on OpenAI's GPT technology.