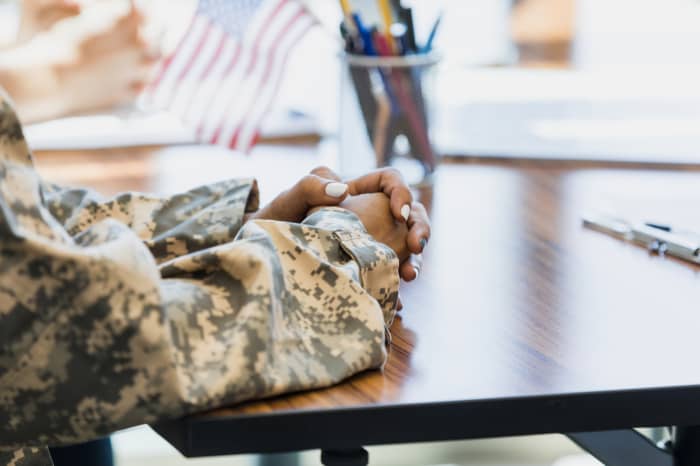 Question: I'm a disabled veteran on a fixed income. I'm looking to reinvest a smaller portfolio in a new long-term retirement account. How can a financial adviser help me? (Looking for a new financial adviser too? This tool can match you to an advisor who meets your needs.)
Answer: First of all, thank you for your service. And we have good news: As a veteran, you should be able to obtain free financial advice. This resource offers lists many of the ways you can get financial help. The VA's Insurance Service provides free financial advice from FinancialPoint, and Military OneSource offers free financial counseling to service members and their families.
And, adds certified financial planner Anthony Ogorek, president and founder of Ogorek Wealth Management: "The VA has a very helpful monograph with common sense advice that you may find helpful."
It's also important to consider that disability benefits from the Department of Veterans Affairs aren't taxable, and qualifying veterans can get a lifetime earnings credit for wages during service depending on their length of service.
Have an issue with a financial adviser or looking to hire a new one? Email picks@marketwatch.com.
If you do decide to hire a financial planner, you may want to opt for a certified financial planner. They complete extensive coursework and hold a legal and ethical duty to operate in your best interest. A financial adviser could help you determine whether you should even be investing this smaller portfolio in the first place.
"The financial planner would help you map out your cash flows, determine whether you need to increase your cash reserve, help you navigate whether you need to implement estate or legal documents and only after laying this foundation would you discuss an investment plan," says Kaleb Paddock, certified financial planner at Ten Talents Financial Planning. If appropriate, the adviser would help you create a diversified portfolio and determine a use-by date for your accounts, so you have a purpose and plan for each account and why it's invested in a certain way, says Paddock. 
When it comes to financial planners, you would probably benefit from an advice-only or flat-fee planner who has experience working with people like you, pros say. You can find planners using sites like Garrett Planning Network, XY Planning Network and the National Association for Personal Financial Advisors (NAPFA). This guide will help you figure out what questions to ask any planner you might hire, and this guide will help you figure out how to vet a financial planner. (Looking for a new financial adviser? This tool can match you to an advisor who meets your needs.)
You may even want to consider an online robo-adviser or even a hybrid human/robo-adviser who can help you manage your investments at a fraction of the cost. SoFi Automated, Wealthfront, Betterment, Ellevest and E*Trade all offer low-cost robo-adviser services.
Questions edited for brevity and clarity.
Have an issue with a financial adviser or looking to hire a new one? Email picks@marketwatch.com.
The advice, recommendations or rankings expressed in this article are those of MarketWatch Picks, and have not been reviewed or endorsed by our commercial partners.