InvestorPlace – Stock Market News, Stock Advice & Trading Tips
As we take big strides toward a cleaner and greener Earth, we will continue to see a lot of Electric Vehicles (EVs) on the road. The automotive industry is going electric, and this is where all the big investments will happen over the next decade. Several automakers are on their path to developing electric vehicles, while many are already selling them. Tesla (NASDAQ:TSLA) is a leader in the industry, and it has made the most of its first-mover advantage, but several other players have massive potential. If you believe in EV technology, it is time to consider these three EV growth stocks with immense potential in the sector.
BYDDF
BYD Co.
$29
NIO
Nio
$9.57
CHPT
ChargePoint
$11.08
BYD Co. (BYDDF)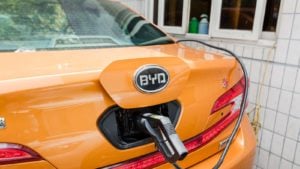 Source: J. Lekavicius / Shutterstock.com
At the top of my list is BYD Co. (OTCMKTS: BYDDF), also Tesla's biggest rival. In 2022, it sold 911,141 battery vehicles and saw a 184% growth year over year. BYD is one of the best EV growth stocks to own right now, as the Warren Buffett–backed company has already surpassed Tesla's sales in China, excluding the plug-in hybrids. It is the world's biggest EV maker with huge growth potential. The company is financially stable, and its top and bottom line are growing.
Looking at the price point, BYD has an advantage over Tesla and the potential to grow across different countries. The company has already started EV sales in Japan, the fourth-largest auto market today. It recently began exporting to India and Thailand and plans to invest $1.2 billion in a factory for its batteries in China. It also has ambitious global expansion plans and has been visiting potential sites, with Vietnam, Indonesia, and the Philippines competing to host the EV maker. The stock is trading at $29 today and could hit $40 soon.
One solid reason to bet on BYD stock is its lineup of products and the projection that its net profit in 2023 will be five times higher than in 2022. Even if the company grows its profit three times, it could be a significantly huge number. In the recent February deliveries, BYD sold 193,655 NEVs, up 119% year-over-year and up 28% from the past month. All battery vehicle sales were up 1110% in February compared to the previous year. As China eases lockdowns and the supply chain troubles end, BYD will lead the EV industry with its vehicles.
Nio (NIO)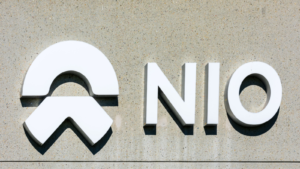 Source: Michael Vi / Shutterstock.com
When it comes to EV growth stocks, the pure-play Chinese EV maker Nio (NYSE:NIO) cannot be missed. It delivered its quarterly results yesterday, and investors aren't happy with them. The company has suffered more than it deserved to because of the China lockdown and supply chain issues. Nio has already made a mark in the Chinese market and is ready to work on its expansion plans now. NIO stock saw a huge drop in the past 12 months and is trading at $9.57 today. However, I think it is time to buy the drop as the stock looks undervalued, and there is a solid chance of a rebound.
Nio reported revenue of $2.33 billion and a quarterly loss of 51 cents a share. The loss was higher than expected by investors, which took the stock down. The company expects to deliver 31,000 to 33,000 vehicles in the first quarter of 2023. It is an achievable number since it has already delivered 8,506 vehicles in January and 12,157 in February. The revenue projections for the quarter are moderate and lower than expectations, but higher deliveries could take the revenue higher in the later part of the year. This could also lead to a reduction in losses in the long term.
A lot is working in favor of the company. It plans a new factory for EV exports to Europe and is already working on its mass-market product. With car deliveries accelerating, we will see solid revenue growth in 2023. The company also plans to launch new models this year and currently has eight models in the lineup. With five due to launch, there will be a broader offering with varying price points for customers. Another reason to bet on the stock is the battery-swapping stations that make it a strong player in the EV sector. The business development is positive and NIO stock has a long way to go. If you have a long-term perspective, NIO stock is the one to buy and hold.
ChargePoint (CHPT)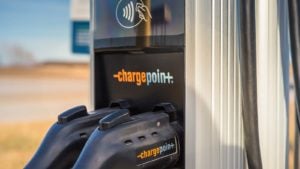 Source: YuniqueB / Shutterstock.com
The third EV growth stock is ChargePoint (NYSE:CHPT), which is already a leader in charging solutions for commercial and residential use across Europe and the United States. The company has solid financials and an ability to scale. CHPT stock is trading at $11.08 today but could rebound after the results. As the EV market grows, there is a higher chance for a rise in the demand for EV charging solutions which can give ChargePoint a huge opportunity to grow with time. It is one of the top EV growth stocks to own before the results. The company might not report profitability soon, but it is a solid long-term play. Janney Montgomery Scott analyst Thomas Meric has a buy rating for the stock with a price target of $16.
The company has a charging network of more than 210,000 active ports, and EV maker Fisker (NYSE:FSR) recently announced a partnership with ChargePoint as the official partner of North American public charging solutions. This will make it easier for Fisker owners to charge their vehicles anywhere in North America.
ChargePoint announced its quarterly earnings recently and managed to beat EPS projections. It reported a revenue of $153 million, a 93% YoY growth, while the full-year revenue hit $468 million, showing a 94% YoY growth. Interestingly, its annualized subscription revenue crossed $100 million, which is huge. Despite a higher net loss, the company has set firm ground for 2023 and could make big moves this year. The stock was up 1.6% after the results.
On the date of publication, Vandita Jadeja did not have (either directly or indirectly) any positions in the securities mentioned in this article. The opinions expressed in this article are those of the writer, subject to the InvestorPlace.com Publishing Guidelines.
Vandita Jadeja is a CPA and a freelance financial copywriter who loves to read and write about stocks. She believes in buying and holding for long term gains. Her knowledge of words and numbers helps her write clear stock analysis.
More From InvestorPlace
Buy This $5 Stock BEFORE This Apple Project Goes Live
The Best $1 Investment You Can Make Today
It doesn't matter if you have $500 or $5 million. Do this now.
Massive Bear Market "Divergence Event" Ahead… And The #1 Way to Play It
The post 3 Growth Stocks With Massive Potential in the Electric Vehicle Market appeared first on InvestorPlace.