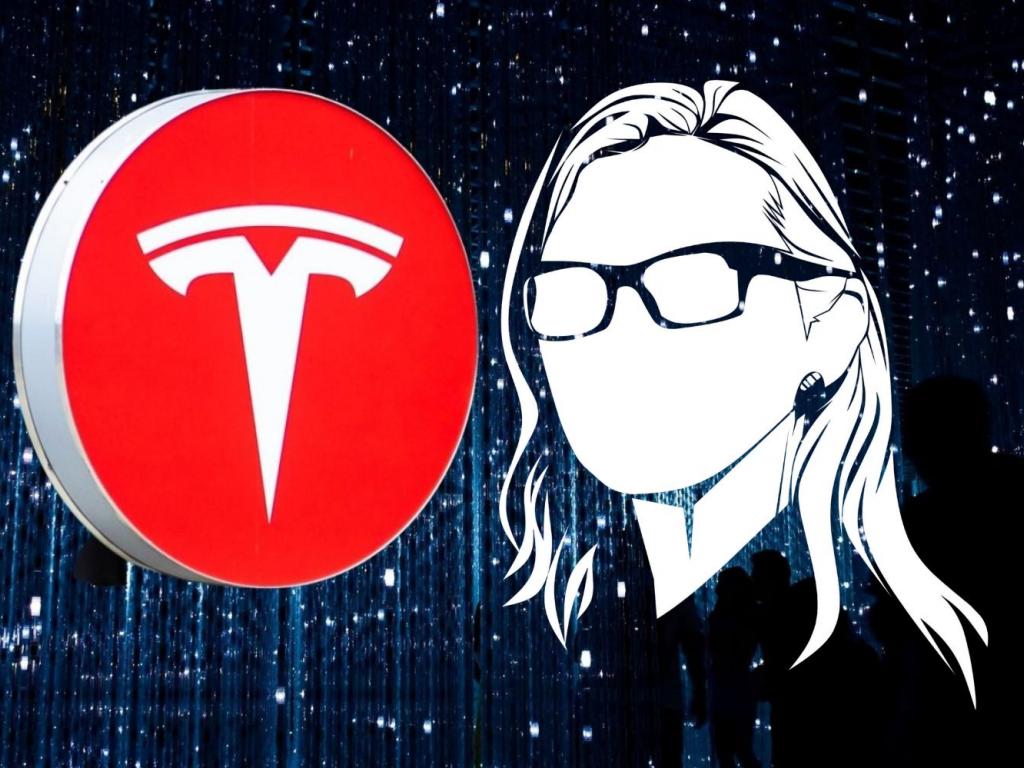 Over the last several years, Ark Invest CEO Cathie Wood has been one of the biggest bulls on electric vehicle company Tesla Inc (NASDAQ:TSLA). Here's a look at how much an investment in Tesla could be worth in the next three years if it hits Wood's latest price target.
What Happened: Wood was laughed at when she issued a $4,000 price target on Tesla back in 2018. The prediction from the ETF manager came when shares were trading around $350 each and the highest price target from analysts was $500.
"If we're right, this stock in our models is going to $4,000. If we're wrong and all they do is electric, our bear case is $600," Wood said in 2018.
Three years later, Tesla shares hit Wood's $4,000 price target, when adjusted for a five-for-one split in 2020.
The big question for investors is if Wood can strike magic again with a new forward-looking price target on Tesla.
Over the last two years, Ark Invest has laid out several price targets for Tesla shares when factoring in robotaxis and full-self driving. The latest model from Ark Invest takes out those two future items and settles on a price target of $500 by the year 2026.
Ark Invest may have unveiled a new price target if Tesla's latest Investor Day had offered more details on its potential $25,000 vehicle and robotaxis.
Prior to the event, Wood praised Tesla's advantage over rivals and the potential value of a $25,000 vehicle.
"It's going to be very difficult for the competition to beat that. In fact, they won't be able to come anywhere near it," Wood said.
Wood added that rival companies would have to lose money to compete at the same pricing levels as Tesla.
"As you notice, as prices have come down, his (Tesla CEO Elon Musk's) margins have gone up. He's enjoying economies of scale, and we do believe that margins for Tesla are going to become explosive with autonomous mobility."
Wood said she expected the Tesla Investor Day to be heavy on discussing the robotaxis and a starting price point of $25,000, something that did not pan out.
Read Next: Here's How Many Vehicles Tesla Has Delivered And Produced In Each Quarter Since 2019 
Investing $1,000 in Tesla Now: A $1,000 investment in Tesla today could buy 5.06 shares, based on the price of $197.79 at the time of writing.
If Tesla can hit Wood's price target of $500 in 2026, the $1,000 investment would be worth $2,530. This represents a potential return of 153% over the next three years, representing an average annual return of 51%.
Wood and Ark Funds are betting big on the future success of Tesla. The electric vehicle giant is the largest holding in the Ark Innovation ETF (NYSE:ARKK) at 10.3% of assets and in the Ark Autonomous Technology & Robotics ETF (BATS:ARKQ) at 13.8% of assets. Tesla is the fifth-largest holding in the Ark Next Generation Internet ETF (NYSE:ARKW) at 6.7% of assets.
Related Link: Tesla Analysts Praise Vertical Integration After Investor Day, But Want More From Elon Musk: 'Long On Vision, Short On Specifics'
Photo: Shutterstock