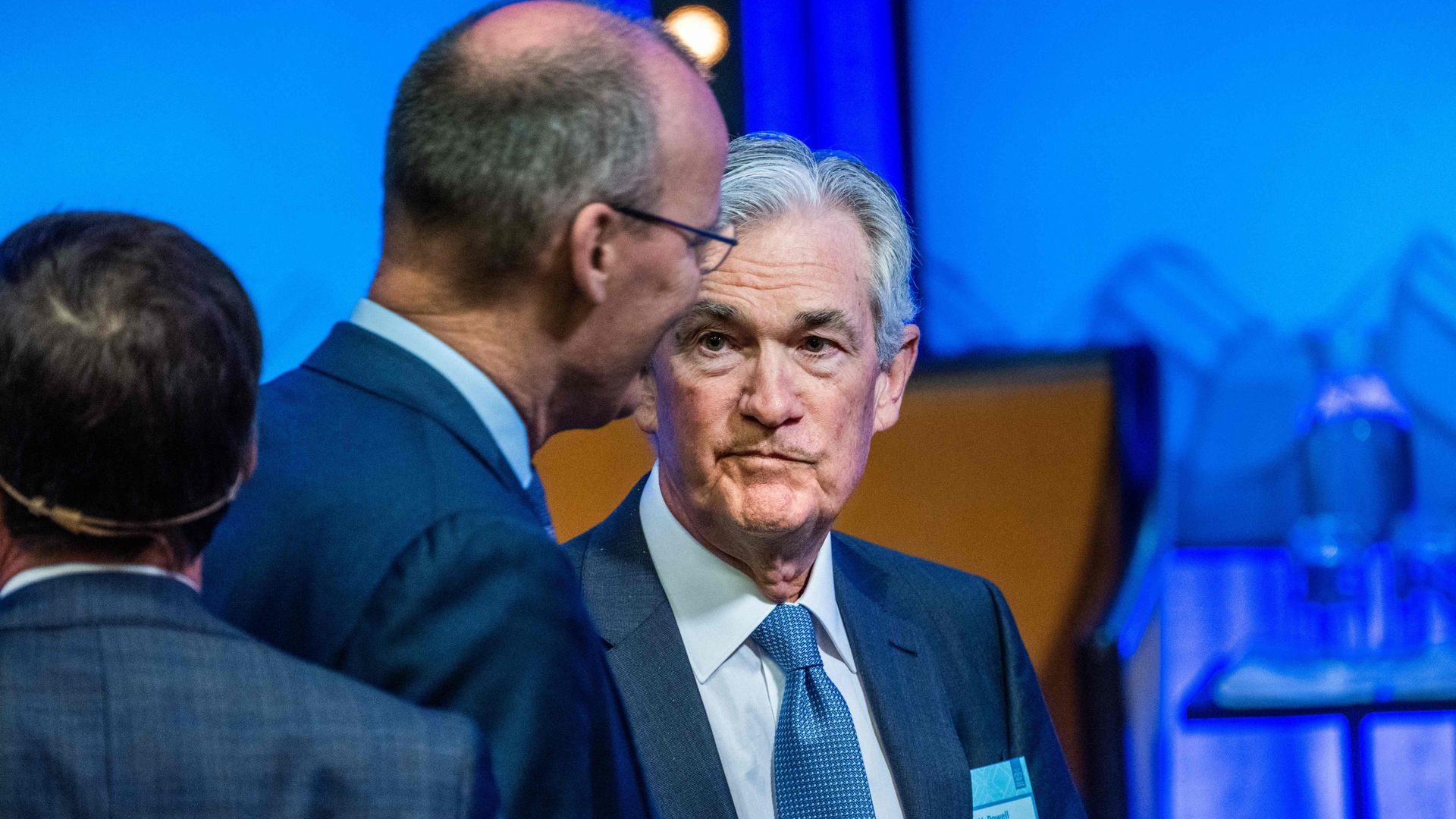 Federal Reserve chairman Jerome Powell at a conference in Stockholm, Sweden on Tuesday. Photo: Claudio Bresciani/TT News Agency/AFP via Getty Images
Federal Reserve chair Jerome Powell said in a speech on Tuesday the central bank is not a "climate policymaker," though acknowledged the Fed has a duty to ensure banks understand the financial risks associated with climate change.
Why it matters: How and if the Fed incorporates climate change initiatives into policymaking will continue to be a political flashpoint in the coming year. Powell seems to be drawing a clear line of how the Fed will maneuver the issue.
What they're saying: "Without explicit congressional legislation, it would be inappropriate for us to use our monetary policy or supervisory tools to promote a greener economy or to achieve other climate-based goals," Powell said at a conference on central bank independence hosted by Sweden's central bank.
"We are not, and will not be, a 'climate policymaker.'"
But, Powell said, the public "reasonably expects" financial regulators like the Fed to require that banks know and "appropriately manage" the financial risks of climate change.
Details: The comments were part of a bigger speech on the importance of an apolitical Fed. Powell did not mention specifics related to his considerations about the upcoming interest rate decision, though he did mention that high inflation may require "measures that are not popular in the short term" as it works to bring inflation down.
Powell said the Fed shouldn't wade into issues that weren't directly associated with the two jobs assigned to it by Congress: price stability and full employment. Doing so, Powell said, would "undermine the case for our independence."
"We should 'stick to our knitting' and not wander off to pursue perceived social benefits that are not tightly linked to our statutory goals and authorities," Powell said, later adding the Fed should "resist the temptation to broaden our scope to address other important social issues of the day."
The bottom line: The Fed is set to face plenty of blowback from Congress related to how its aggressive rate hikes have impacted the economy, as well as the still-rapid pace of price increases.
But on questions related to climate change and other social issues, Powell speech offers something of a preview of how he is set to respond.