John Mack, who was chief executive of Morgan Stanley during the financial crisis, was interviewed on Bloomberg's Masters in Business podcast after publishing a memoir, Up Close and All In: Life Lessons from a Wall Street Warrior.
Mack began his career on Wall Street in New York in 1968 at Smith Barney after leaving Duke University. He first joined Morgan Stanley in 1972 trading bonds where he said he learnt a lot about risk, not drinking too much at lunch, telling the truth and focussing on clients.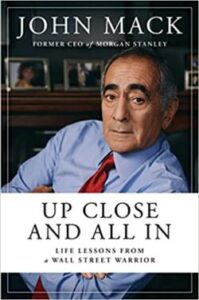 "I think business is personal and you had to know who your clients were and know about their families," he added. "At the end of the day it's all about trust and delivering what you say you're going to do."
He described the culture on Wall Street in the late 1960s and early 1970s as a "crazy time" when political correctness did not exist.
"I heard about these crazy parties that Wall Street was throwing and only went to one and left," he said. "It was basically strippers and people getting drunk."
At that time Wall Street was closed on Wednesday afternoons to allow securities firms to catch up with their settlements as they did not have adequate technology.
By the 1980s the key forces driving changes on Wall Street were globalisation, deregulation and technology according to Mack.When Mack started his career the client base was in the United States. As globalisation took place clients would be all over the world and people became more focused on maximizing returns.
As markets became global, securities businesses had to be more active on a worldwide basis so the US industry removed a lot of regulation. However, over time regulators around the world concluded that they needed an overall management system for risk and regulatory oversight.
"So, if you took a big risk in Japan or Europe you needed to roll that up so that the regulator could see your overall risk," he added. "I think that was a huge and very important move."
Eventually, Mack became head of the fixed income department at Morgan Stanley and had to manage a team of salespeople and traders. He said: "I learnt very quickly that you have to be more balanced and not as aggressive."
Mack said there needs to be a "whole firm" culture in order to build a competitive investment bank.
"People who come into the business are competitive and want to achieve and do well," he added. "I was trying to take all this aggressiveness, this ability to build business and make it into one firm."
He met a professor on a plane who advised corporates on managing people who suggested Mack set up independent committees to decide on the promotions and compensation, to avoid accusations of favouritism which Mack said changed the culture of the division.
"It was about being professional, direct and honest," he added. "Your peers would do the evaluation and, in the full 360, your peers would also anonymously review their managers."
In 1993 Mack became President of Morgan Stanley and in 1997 the investment bank merged with retail broker Dean Witter. Mack described Dean Witter as a great merger candidate because of its huge network, so had better information on the retail market and also the institutional market. After the merger Dean Witter's Philip Purcell became chief executive of the merged company, and eventually Mack resigned.
Mack said it made sense for the shareholders for the merger to complete and for him to take the number two job under Purcell, but there was a culture clash between the more risk-averse retail business and investment banking.
"We also inherited the Discover card with the merger, which was also a money machine," he added. "By putting retail and institutional together we had tremendous clout, but from a managerial point of view, it was not a culture I wanted to be in."
After Morgan Stanley, Mack worked at Credit Suisse where he said there was some pretty egregious spending so he had to cut headcount, and compensation was out of kilter, particularly in the technology team. He had been given the nickname "Mack the Knife, which he said he didn't mind. Mack said: "I have an ego. I like that."
Credit Suisse fired Mack at the three-year contract, and he and his wife eventually returned to Morgan Stanley, where he replaced Purcell as chief executive in 2005.
"We grew up at Morgan Stanley," he said. "We knew the culture and to come back and have people just running to get to the door to welcome us in was emotional."
Mack said Morgan Stanley had become too risk averse meritocracy had dissipated away, which was the most important thing to restore.
"We tried to pull people together and talk about how to make this a great firm again because the roots and the bones were there," he added. " It was about reaching out and bringing people together, working for our clients and making sure that we treated people fairly."
Mack admitted that Morgan Stanley took too much risk leading up to the financial crisis in 2008, and the firm not have a fortress balance sheet like JP Morgan or Citi. He eventually negotiated a $9bn investment from Japanese bank MUFG.
"All I can say is thank god for the Japanese and what they did," he said. "That was the lifesaver."