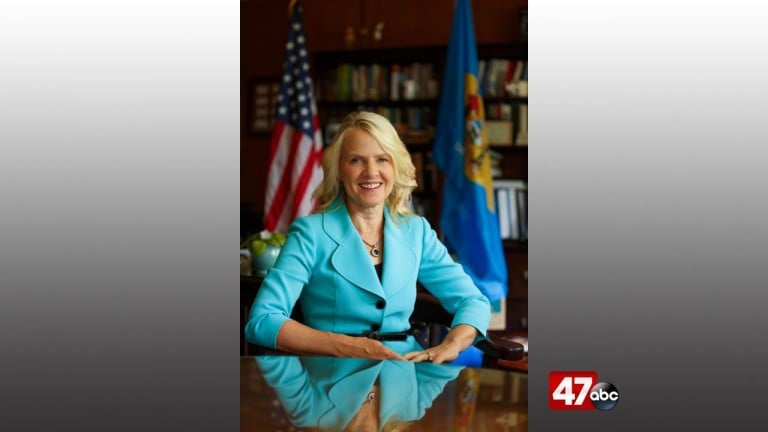 DOVER, Del. – Delaware Lt. Governor Bethany Hall-Long sat down with 47 ABC's Rob Petree to highlight the work she is doing alongside Governor Carney following the State of the State Address on Thursday.
Governor Carney recently announced pay increased for Delaware teachers of up to 9%. Lt. Governor Hall-Long tells us how that fits into the administration's plans to improve educational outcomes for Delaware students.
"It's really important that our frontline workers, our teachers, nurses, individuals who really uplift our families, have compensation that is fair and equitable," Lt. Governor Hall-Long explained. "I know Governor Carney, in his proposed budget to the General Assembly, which will be presented next week, will go up to 9%. There's a 3% overall for all persons in the Department of Ed and public education, so all classifications, and then classroom teachers will get that additional 6%."
Lt. Governor Hall-Long emphasized and stressed the importance of a raise for educators and how it translates to the economy and overall well-being of the State of Delaware.
"Education is the key foundation to our economy and the health of our community," Lt. Governor Hall-Long said. "In the Salisbury, Delmarva, Delaware communities, it's interchangeable to our businesses, to our systems of care, and solid education is just so important."
While focusing on the economy, we asked Lt. Governor Hall-Long what her economic priorities are as she and Governor Carney enter the last two years of their final terms.
"Workforce is absolutely critical," Lt. Governor Hall-Long said emphatically. "Whether it's science, technology, engineering, math. My father-in-law used to work at the Seaford DuPont Company. We're investing a lot of money into science and technology and refurbishing areas in the community, and to the listening audience, it really is around the economy. Whether it's tourism, whether it's agriculture, the whole workforce development is critical."
To be able to get the state in a place where the economy is bolstered, an 'economic boom' according to the Lt. Governor, the state needs to be healthy as the two go hand-in-hand.
"In order to have that economic boom, foundationally you have to have the healthcare," Lt. Governor Hall-Long stressed. "A healthy community means a healthy economy and education, early education, which is really important to me, so it's kind of this convergence of education, economics, and healthcare, top priorities in these remaining two years and to build on the Governor's progress."
On the topic of healthcare, we also asked the Lt. Governor, as the co-chair of the Delaware Prescription Opioid Settlement Distribution Committee, about the increase in opioid-related overdoses across Delaware.
"The Prescription Opioid Distribution Commission, thanks to the collaborative efforts with our Attorney General Jennings office, where we did go and won lawsuits up to $110 million for the State of Delaware, and we know that unfortunately this started with opioids, percocets, hydrocodone pills, and big pharma. So, the settlements with the big pharmaceutical companies lends funds to the states that settled lawsuits."
Just last year, Delaware reported 515 overdose deaths, that's an increase of more than 15-percent over 2020. A press conference was held Wednesday where state officials sounded the alarm over the increase and emphasized treatment options that are available.
More than 80% of deadly overdoses in 2021 involved Fentanyl, and while that remains a concern, health officials are now sounding the alarm over a new, deadly drug that the Lt. Governor tells us is being found in Fentanyl across the First State.
"There's also a very dangerous new substance being added to Fentanyl called Xylazine which is also known on the streets as tranq," Lt. Governor Hall-Long explained. "This will actually eat away your skin, end up with amputations, it is a very serious matter. The good news for those listening, there is hope, and there are 24/7 recovery services and that's what the Opioid Abatement Fund's about."
Preliminary reports show that there were 406 confirmed overdose deaths in the first three quarters of 2022, with approximately 124 suspected overdose deaths still pending final testing from the last quarter of 2022. This compares to 374 confirmed overdose deaths in the first three quarters of 2021.
"These are family members, these are children, these are parents, young adults at the prime of their lives," Lt. Governor Hall-Long said. "We want people to know that it is ok not to be ok, to call 211, to reach out to the hope and help line. We in Delaware have 24/7 referral services."
To help address behavioral health needs of Delawareans, DHSS has several ways for individuals or their family members to connect:
Call the 24/7 Delaware Hope Line at 1-833-9-HOPEDE or 1-833-946-7333 – a single point of contact in which callers can connect to a variety of resources and information, including support from clinicians and peer specialists plus crisis assistance.
Stop by one of DHSS' Bridge Clinics for an in-person assessment.
Visit TreatmentConnection.com to find out which treatment providers are located near you.
Visit HelpIsHereDE.com, DHSS' one-stop website where Delawareans can search for treatment services and resources in Delaware or nearby states.
Call 988 if the individual is in crisis and needs immediate support.
Call 911 if someone has overdosed and needs emergency medical attention.
Learn where to find Narcan training, get the medication through the mail, and download the OpiRescueDE App here.