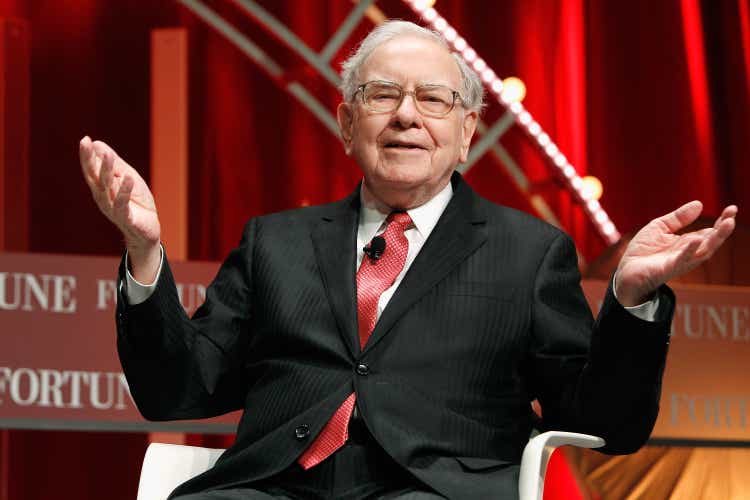 If you're familiar with my work then you should've worked out that I'm a huge Warren Buffett (Berkshire Hathaway (NYSE:BRK.A) (NYSE:BRK.B)) fan. Whenever I mention or reference Warren, I almost always refer to him as "Sir Warren." Incidentally, Malcolm Gladwell has explored the concept of greatness and he argues that longevity is woefully undervalued, under-appreciated, and frankly an under reported aspect of the assessment of greatness. When it comes an amazing long term record of compounding capital, there is no one better than Sir Warren. Philip Fischer, Peter Lynch, and Bill Miller all posted some exceptional stretches. And in the hedge fund world, folks like Jim Rogers, Stan Druckenmiller, Bill Ackman, Seth Klarman, and David Tepper are right up there. There are also others within the hedge fund world, with truly impressive records, but we are expressly talking about the rarefied air of the greats.
In terms of broader markets, measured by the major indices, 2022, 2000-2002, and 2008-2009 are similar in terms of bad return outcomes, at least for long only investors, but dissimilar in terms of the origins or drivers of those poor outcomes.
As I'm sure most people are aware, in 2022, the S&P 500 (SPY) was down 18.1%, the Nasdaq 100 (QQQ) down 32%, the Russell 2000 (IWM) down 20.4%, the highly popular Vanguard Real Estate ETF (VNQ) down 24.4%, and Cathie Wood's ARK Innovation ETF (ARKK) down a whopping 67%. Bucking the trend, though, was E&P energy, and a proxy for that was the Energy Select Sector Spider ETF (XLE), which was up a blistering 63.4%!
With that said, the purpose of today's piece is reminder readers, that other than about perhaps once per decade, market timing doesn't really work. Understandably, 2022 was exceptionally difficult for most 60% stocks / 40% bonds portfolios. When you experience a really nasty drawdown and defensive bonds don't act as the cushion, I can understand why some people simply threw up their hands and want to give up. Or perhaps, others driven by recency bias and the emotionally scarring associated with living through a 2022, want to make a 180-degree shift and change tactics.
Candidly, as a proxy for short-term popularism, I'm see way too many trending articles on market timing. Within the commentary threads, of these seemingly highly popular market timing pieces, I'm seeing a lot of "all or none approaches." People seem to think they can gracefully run between raindrops and move in and out of the market, while capturing these juicy returns and magically avoiding the nasty drawdowns.
Therefore, and notwithstanding the ridiculously warm January 2023 to-date, at least here in the Northeast, January tends to be a month of reflection, planning, and thinking about the year ahead.
To that end, my concern is that pain, experienced in 2022, was so acute, that many people's visceral reaction might negatively impact the trajectory of their future results.
To that end, I took the time to review Sir Warren Buffett's treasure trove of annual shareholder letters. These letters are freely and readily available for anyone to read. The only requirement is an Internet connection, intellectual curiosity, time, and the ability to synthesize. As I'm guessing most people don't have all four of those requirements, therefore instead, I took the time to share the vast majority of relevant references, to the topic of "Market Timing" from the Berkshire Hathaway annual letter archives. In this iteration of this exercise, I'm focusing exclusively on Sir Warren and Charlie Munger's references, clever explanations, and thoughts on the topic of "Market Timing."
(To be clear, every single reference is a direct quote from the annual shareholder letter archives, organized by the year.)
Sir Warren And Charlie's Thoughts On Market Timing
1978 Letter
We make no attempt to predict how security markets will behave; successfully forecasting short term stock price movements is something we think neither we nor anyone else can do. In the longer run, however, we feel that many of our major equity holdings are going to be worth considerably more money than we paid, and that investment gains will add significantly to the operating returns of the insurance group."
We are not concerned with whether the market quickly revalues upward securities that we believe are selling at bargain prices. In fact, we prefer just the opposite since, in most years, we expect to have funds available to be a net buyer of securities. And consistent attractive purchasing is likely to prove to be of more eventual benefit to us than any selling opportunities provided by a short-term run up in stock prices to levels at which we are unwilling to continue buying.
1980 Letter
Of course, this translation of retained earnings into market price appreciation is highly uneven (it goes in reverse some years), unpredictable as to timing, and unlikely to materialize on a precise dollar-for-dollar basis. And a silly purchase price for a block of stock in a corporation can negate the effects of a decade of earnings retention by that corporation. But when purchase prices are sensible, some long-term market recognition of the accumulation of retained earnings almost certainly will occur. Periodically you even will receive some frosting on the cake, with market appreciation far exceeding post-purchase retained earnings.
As a quick aside, and slightly off topic, please see Sir Warren's commentary on reinsurance and the parallels of chasing yield.
The reinsurance business continues to reflect the excesses and problems of the primary writers. Worse yet, it has the potential for magnifying such excesses. Reinsurance is characterized by extreme ease of entry, large premium payments in advance, and much-delayed loss reports and loss payments. Initially, the morning mail brings lots of cash and few claims. This state of affairs can produce a blissful, almost euphoric, feeling akin to that experienced by an innocent upon receipt of his first credit card. The magnetic lure of such cash-generating characteristics, currently enhanced by the presence of high interest rates, is transforming the reinsurance market into "amateur night". Without a super catastrophe, industry underwriting will be poor in the next few years. If we experience such a catastrophe, there could be a bloodbath with some companies not able to live up to contractual commitments. George Young continues to do a first-class job for us in this business. Results, with investment income included, have been reasonably profitable. We will retain an active reinsurance presence but, for the foreseeable future, we expect no premium growth from this activity.
1981 Letter
While market values track business values quite well over long periods, in any given year the relationship can gyrate capriciously. Market recognition of retained earnings also will be unevenly realized among companies. It will be disappointingly low or negative in cases where earnings are employed non- productively, and far greater than dollar-for-dollar of retained earnings in cases of companies that achieve high returns with their augmented capital. Overall, if a group of non-controlled companies is selected with reasonable skill, the group result should be quite satisfactory.
1982 Letter
However, this very unevenness and irregularity offers advantages to the value-oriented purchaser of fractional portions of businesses. This investor may select from almost the entire array of major American corporations, including many far superior to virtually any of the businesses that could be bought in their entirety in a negotiated deal. And fractional-interest purchases can be made in an auction market where prices are set by participants with behavior patterns that sometimes resemble those of an army of manic-depressive lemmings. Within this gigantic auction arena, it is our job to select businesses with economic characteristics allowing each dollar of retained earnings to be translated eventually into at least a dollar of market value. Despite a lot of mistakes, we have so far achieved this goal. In doing so, we have been greatly assisted by Arthur Okun's patron saint for economists – St. Offset. In some cases, that is, retained earnings attributable to our ownership position have had insignificant or even negative impact on market value, while in other major positions a dollar retained by an investee corporation has been translated into two or more dollars of market value. To date, our corporate over- achievers have more than offset the laggards. If we can continue this record, it will validate our efforts to maximize "economic" earnings, regardless of the impact upon "accounting" earnings.
Our partial-ownership approach can be continued soundly only as long as portions of attractive businesses can be acquired at attractive prices. We need a moderately-priced stock market to assist us in this endeavor. The market, like the Lord, helps those who help themselves. But, unlike the Lord, the market does not forgive those who know not what they do. For the investor, a too-high purchase price for the stock of an excellent company can undo the effects of a subsequent decade of favorable business developments.
1983 Letter
One of the ironies of the stock market is the emphasis on activity. Brokers, using terms such as "marketability" and "liquidity", sing the praises of companies with high share turnover (those who cannot fill your pocket will confidently fill your ear). But investors should understand that what is good for the croupier is not good for the customer. A hyperactive stock market is the pickpocket of enterprise.
1985 Letter
Most institutional investors in the early 1970s, on the other hand, regarded business value as of only minor relevance when they were deciding the prices at which they would buy or sell. This now seems hard to believe. However, these institutions were then under the spell of academics at prestigious business schools who were preaching a newly-fashioned theory: the stock market was totally efficient, and therefore calculations of business value – and even thought, itself – were of no importance in investment activities. (We are enormously indebted to those academics: what could be more advantageous in an intellectual contest – whether it be bridge, chess, or stock selection than to have opponents who have been taught that thinking is a waste of energy?).
1986 Letter
Common stocks, of course, are the most fun. When conditions are right that is, when companies with good economics and good management sell well below intrinsic business value – stocks sometimes provide grand-slam home runs. But we currently find no equities that come close to meeting our tests. This statement in no way translates into a stock market prediction: we have no idea – and never have had – whether the market is going to go up, down, or sideways in the near- or intermediate term future. What we do know, however, is that occasional outbreaks of those two super-contagious diseases, fear and greed, will forever occur in the investment community. The timing of these epidemics will be unpredictable. And the market aberrations produced by them will be equally unpredictable, both as to duration and degree. Therefore, we never try to anticipate the arrival or departure of either disease. Our goal is more modest: we simply attempt to be fearful when others are greedy and to be greedy only when others are fearful.
1987 Letter
When investing, we view ourselves as business analysts – not as market analysts, not as macroeconomic analysts, and not even as security analysts. Our approach makes an active trading market useful, since it periodically presents us with mouth-watering opportunities. But by no means is it essential: a prolonged suspension of trading in the securities we hold would not bother us any more than does the lack of daily quotations on World Book or Fechheimer. Eventually, our economic fate will be determined by the economic fate of the business we own, whether our ownership is partial or total. Ben Graham, my friend and teacher, long ago described the mental attitude toward market fluctuations that I believe to be most conducive to investment success. He said that you should imagine market quotations as coming from a remarkably accommodating fellow named Mr. Market who is your partner in a private business. Without fail, Mr. Market appears daily and names a price at which he will either buy your interest or sell you his. Even though the business that the two of you own may have economic characteristics that are stable, Mr. Market's quotations will be anything but. For, sad to say, the poor fellow has incurable emotional problems. At times he feels euphoric and can see only the favorable factors affecting the business. When in that mood, he names a very high buy-sell price because he fears that you will snap up his interest and rob him of imminent gains. At other times he is depressed and can see nothing but trouble ahead for both the business and the world. On these occasions he will name a very low price, since he is terrified that you will unload your interest on him. Mr. Market has another endearing characteristic: He doesn't mind being ignored. If his quotation is uninteresting to you today, he will be back with a new one tomorrow. Transactions are strictly at your option. Under these conditions, the more manic- depressive his behavior, the better for you.
The value of market esoterica to the consumer of investment advice is a different story. In my opinion, investment success will not be produced by arcane formulae, computer programs or signals flashed by the price behavior of stocks and markets. Rather an investor will succeed by coupling good business judgment with an ability to insulate his thoughts and behavior from the super-contagious emotions that swirl about the marketplace. In my own efforts to stay insulated, I have found it highly useful to keep Ben's Mr. Market concept firmly in mind. Following Ben's teachings, Charlie and I let our marketable equities tell us by their operating results – not by their daily, or even yearly, price quotations – whether our investments are successful. The market may ignore business success for a while, but eventually will confirm it. As Ben said: "In the short run, the market is a voting machine but in the long run it is a weighing machine." The speed at which a business's success is recognized, furthermore, is not that important as long as the company's intrinsic value is increasing at a satisfactory rate. In fact, delayed recognition can be an advantage: It may give us the chance to buy more of a good thing at a bargain price. Sometimes, of course, the market may judge a business to be more valuable than the underlying facts would indicate it is. In such a case, we will sell our holdings. Sometimes, also, we will sell a security that is fairly valued or even undervalued because we require funds for a still more undervalued investment or one we believe we understand better. We need to emphasize, however, that we do not sell holdings just because they have appreciated or because we have held them for a long time. (Of Wall Street maxims the most foolish may be "You can't go broke taking a profit.") We are quite content to hold any security indefinitely, so long as the prospective return on equity capital of the underlying business is satisfactory, management is competent and honest, and the market does not overvalue the business.
Following Ben's teachings, Charlie and I let our marketable equities tell us by their operating results – not by their daily, or even yearly, price quotations – whether our investments are successful. The market may ignore business success for a while, but eventually will confirm it. As Ben said: "In the short run, the market is a voting machine but in the long run it is a weighing machine." The speed at which a business's success is recognized, furthermore, is not that important as long as the company's intrinsic value is increasing at a satisfactory rate. In fact, delayed recognition can be an advantage: It may give us the chance to buy more of a good thing at a bargain price.
The disadvantages of owning marketable securities are sometimes offset by a huge advantage: Occasionally the stock market offers us the chance to buy non-controlling pieces of extraordinary businesses at truly ridiculous prices – dramatically below those commanded in negotiated transactions that transfer control. For example, we purchased our Washington Post stock in 1973 at $5.63 per share, and per-share operating earnings in 1987 after taxes were $10.30. Similarly, Our GEICO stock was purchased in 1976, 1979 and 1980 at an average of $6.67 per share, and after-tax operating earnings per share last year were $9.01. In cases such as these, Mr. Market has proven to be a mighty good friend.
1988 Letter
One pleasant reason is that our cash holdings are down – because our position in equities that we expect to hold for a very long time is substantially up. As regular readers of this report know, our new commitments are not based on a judgment about short-term prospects for the stock market. Rather, they reflect an opinion about long-term business prospects for specific companies. We do not have, never have had, and never will have an opinion about where the stock market, interest rates, or business activity will be a year from now.
The preceding discussion about arbitrage makes a small discussion of "efficient market theory" (EMT) also seem relevant. This doctrine became highly fashionable – indeed, almost holy scripture in academic circles during the 1970s. Essentially, it said that analyzing stocks was useless because all public information about them was appropriately reflected in their prices. In other words, the market always knew everything. As a corollary, the professors who taught EMT said that someone throwing darts at the stock tables could select a stock portfolio having prospects just as good as one selected by the brightest, most hard-working security analyst. Amazingly, EMT was embraced not only by academics, but by many investment professionals and corporate managers as well. Observing correctly that the market was frequently efficient, they went on to conclude incorrectly that it was always efficient. The difference between these propositions is night and day. In my opinion, the continuous 63-year arbitrage experience of Graham-Newman Corp. Buffett Partnership, and Berkshire illustrates just how foolish EMT is. (There's plenty of other evidence, also.) While at Graham-Newman, I made a study of its earnings from arbitrage during the entire 1926-1956 lifespan of the company. Unleveraged returns averaged 20% per year. Starting in 1956, I applied Ben Graham's arbitrage principles, first at Buffett Partnership and then Berkshire. Though I've not made an exact calculation, I have done enough work to know that the 1956-1988 returns averaged well over 20%. (Of course, I operated in an environment far more favorable than Ben's; he had 1929-1932 to contend with.)
1990 Letter
Investors who expect to be ongoing buyers of investments throughout their lifetimes should adopt a similar attitude toward market fluctuations; instead many illogically become euphoric when stock prices rise and unhappy when they fall. They show no such confusion in their reaction to food prices: Knowing they are forever going to be buyers of food, they welcome falling prices and deplore price increases. (It's the seller of food who doesn't like declining prices.) Similarly, at the Buffalo News we would cheer lower prices for newsprint – even though it would mean marking down the value of the large inventory of newsprint we always keep on hand – because we know we are going to be perpetually buying the product.

Identical reasoning guides our thinking about Berkshire's investments. We will be buying businesses – or small parts of businesses, called stocks – year in, year out as long as I live (and longer, if Berkshire's directors attend the seances I have scheduled). Given these intentions, declining prices for businesses benefit us, and rising prices hurt us.

The most common cause of low prices is pessimism – sometimes pervasive, sometimes specific to a company or industry. We want to do business in such an environment, not because we like pessimism but because we like the prices it produces. It's optimism that is the enemy of the rational buyer.

None of this means, however, that a business or stock is an intelligent purchase simply because it is unpopular; a contrarian approach is just as foolish as a follow-the-crowd strategy. What's required is thinking rather than polling. Unfortunately, Bertrand Russell's observation about life in general applies with unusual force in the financial world: "Most men would rather die than think. Many do."
1991 Letter
An approach of this kind will force the investor to think about long-term business prospects rather than short-term stock market prospects, a perspective likely to improve results. It's true, of course, that, in the long run, the scoreboard for investment decisions is market price. But prices will be determined by future earnings. In investing, just as in baseball, to put runs on the scoreboard one must watch the playing field, not the scoreboard.
1992 Letter
Our equity-investing strategy remains little changed from what it was fifteen years ago, when we said in the 1977 annual report: "We select our marketable equity securities in much the way we would evaluate a business for acquisition in its entirety. We want the business to be one (a) that we can understand; (b) with favorable long-term prospects; (c) operated by honest and competent people; and (d) available at a very attractive price." We have seen cause to make only one change in this creed: Because of both market conditions and our size, we now substitute "an attractive price" for "a very attractive price."
The reason has to do with the way prices are set in each instance. The secondary market, which is periodically ruled by mass folly, is constantly setting a "clearing" price. No matter how foolish that price may be, it's what counts for the holder of a stock or bond who needs or wishes to sell, of whom there are always going to be a few at any moment. In many instances, shares worth x in business value have sold in the market for 1/2x or less. The new-issue market, on the other hand, is ruled by controlling stockholders and corporations, who can usually select the timing of offerings or, if the market looks unfavorable, can avoid an offering altogether. Understandably, these sellers are not going to offer any bargains, either by way of a public offering or in a negotiated transaction: It's rare you'll find x for 1/2x here. Indeed, in the case of common-stock offerings, selling shareholders are often motivated to unload only when they feel the market is overpaying. (These sellers, of course, would state that proposition somewhat differently, averring instead that they simply resist selling when the market is underpaying for their goods.)
1993 Letter
Let me add a lesson from history: Coke went public in 1919 at $40 per share. By the end of 1920 the market, coldly reevaluating Coke's future prospects, had battered the stock down by more than 50%, to $19.50. At yearend 1993, that single share, with dividends reinvested, was worth more than $2.1 million. As Ben Graham said: "In the short-run, the market is a voting machine – reflecting a voter-registration test that requires only money, not intelligence or emotional stability – but in the long- run, the market is a weighing machine."
1995 Letter
There's no reason to do handsprings over 1995's gains. This was a year in which any fool could make a bundle in the stock market. And we did. To paraphrase President Kennedy, a rising tide lifts all yachts.
One more bit of history: I first became interested in Disney (DIS) in 1966, when its market valuation was less than $90 million, even though the company had earned around $21 million pre-tax in 1965 and was sitting with more cash than debt. At Disneyland, the $17 million Pirates of the Caribbean ride would soon open. Imagine my excitement – a company selling at only five times rides! Duly impressed, Buffett Partnership Ltd. bought a significant amount of Disney stock at a split-adjusted price of 31› per share. That decision may appear brilliant, given that the stock now sells for $66. But your Chairman was up to the task of nullifying it: In 1967 I sold out at 48› per share.
1996 Letter
I emphasize this lugubrious point because I would not want you to panic and sell your Berkshire stock upon hearing that some large catastrophe had cost us a significant amount. If you would tend to react that way, you should not own Berkshire shares now, just as you should entirely avoid owning stocks if a crashing market would lead you to panic and sell. Selling fine businesses on "scary" news is usually a bad decision. (Robert Woodruff, the business genius who built Coca-Cola (KO) over many decades and who owned a huge position in the company, was once asked when it might be a good time to sell Coke stock. Woodruff had a simple answer: "I don't know. I've never sold any.")
To invest successfully, you need not understand beta, efficient markets, modern portfolio theory, option pricing or emerging markets. You may, in fact, be better off knowing nothing of these. That, of course, is not the prevailing view at most business schools, whose finance curriculum tends to be dominated by such subjects. In our view, though, investment students need only two well-taught courses – How to Value a Business, and How to Think About Market Prices. Your goal as an investor should simply be to purchase, at a rational price, a part interest in an easily-understandable business whose earnings are virtually certain to be materially higher five, ten and twenty years from now. Over time, you will find only a few companies that meet these standards – so when you see one that qualifies, you should buy a meaningful amount of stock. You must also resist the temptation to stray from your guidelines: If you aren't willing to own a stock for ten years, don't even think about owning it for ten minutes. Put together a portfolio of companies whose aggregate earnings march upward over the years, and so also will the portfolio's market value.
1997 Letter
Given our gain of 34.1%, it is tempting to declare victory and move on. But last year's performance was no great triumph: Any investor can chalk up large returns when stocks soar, as they did in 1997. In a bull market, one must avoid the error of the preening duck that quacks boastfully after a torrential rainstorm, thinking that its paddling skills have caused it to rise in the world. A right-thinking duck would instead compare its position after the downpour to that of the other ducks on the pond.

A short quiz: If you plan to eat hamburgers throughout your life and are not a cattle producer, should you wish for higher or lower prices for beef? Likewise, if you are going to buy a car from time to time but are not an auto manufacturer, should you prefer higher or lower car prices? These questions, of course, answer themselves.

But now for the final exam: If you expect to be a net saver during the next five years, should you hope for a higher or lower stock market during that period? Many investors get this one wrong. Even though they are going to be net buyers of stocks for many years to come, they are elated when stock prices rise and depressed when they fall. In effect, they rejoice because prices have risen for the "hamburgers" they will soon be buying. This reaction makes no sense. Only those who will be sellers of equities in the near future should be happy at seeing stocks rise. Prospective purchasers should much prefer sinking prices.

Though we don't attempt to predict the movements of the stock market, we do try, in a very rough way, to value it. At the annual meeting last year, with the Dow at 7,071 and long-term Treasury yields at 6.89%, Charlie and I stated that we did not consider the market overvalued if 1) interest rates remained where they were or fell, and 2) American business continued to earn the remarkable returns on equity that it had recently recorded. So far, interest rates have fallen — that's one requisite satisfied — and returns on equity still remain exceptionally high. If they stay there — and if interest rates hold near recent levels — there is no reason to think of stocks as generally overvalued. On the other hand, returns on equity are not a sure thing to remain at, or even near, their present levels.

In the summer of 1979, when equities looked cheap to me, I wrote a Forbes article entitled "You pay a very high price in the stock market for a cheery consensus." At that time skepticism and disappointment prevailed, and my point was that investors should be glad of the fact, since pessimism drives down prices to truly attractive levels. Now, however, we have a very cheery consensus. That does not necessarily mean this is the wrong time to buy stocks: Corporate America is now earning far more money than it was just a few years ago, and in the presence of lower interest rates, every dollar of earnings becomes more valuable. Today's price levels, though, have materially eroded the "margin of safety" that Ben Graham identified as the cornerstone of intelligent investing.
1999 Letter
If we have a strength, it is in recognizing when we are operating well within our circle of competence and when we are approaching the perimeter. Predicting the long-term economics of companies that operate in fast-changing industries is simply far beyond our perimeter. If others claim predictive skill in those industries — and seem to have their claims validated by the behavior of the stock market — we neither envy nor emulate them. Instead, we just stick with what we understand. If we stray, we will have done so inadvertently, not because we got restless and substituted hope for rationality. Fortunately, it's almost certain there will be opportunities from time to time for Berkshire to do well within the circle we've staked out.
2008 Letter
Additionally, the market value of bonds and stocks that we continue to hold suffered a significant decline along with the general market. This does not bother Charlie and me. Indeed, we enjoy such price declines if we have funds available to increase our positions. Long ago, Ben Graham taught me that "Price is what you pay; value is what you get."
2009 Letter
Last year we saw, in one instance, how sound-bite reporting can go wrong. Among the 12,830 words in the annual letter was this sentence: "We are certain, for example, that the economy will be in shambles throughout 2009 – and probably well beyond – but that conclusion does not tell us whether the market will rise or fall." Many news organizations reported – indeed, blared – the first part of the sentence while making no mention whatsoever of its ending. I regard this as terrible journalism: Misinformed readers or viewers may well have thought that Charlie and I were forecasting bad things for the stock market, though we had not in that sentence, but elsewhere, made it clear we weren't predicting the market at all.
2010 Letter
Market price and intrinsic value often follow very different paths – sometimes for extended periods – but eventually they meet.
2011 Letter
Over the past 15 years, both Internet stocks and houses have demonstrated the extraordinary excesses that can be created by combining an initially sensible thesis with well-publicized rising prices. In these bubbles, an army of originally skeptical investors succumbed to the "proof' delivered by the market, and the pool of buyers – for a time – expanded sufficiently to keep the bandwagon rolling. But bubbles blown large enough inevitably pop. And then the old proverb is confirmed once again: "What the wise man does in the beginning, the fools does in the end."
2013 Letter
Indeed, who has ever benefited during the past 237 years by betting against America? If you compare our country's present condition to the existing in the 1776, you have to rub your eyes in wonder. And the dynamism embedded in our market economy will continue to work its magic. America's best days lie ahead.
Owners of stock, however, too often let capricious and often irrational behavior of their fellow owners cause them to behave irrationally as well. Because there is so much chatter about markets, the economy, interest rates, price behavior of stocks, etc.., some investors believe it is important to listen to pundits – and, worse yet, important to consider acting upon their comments.
2014 Letter
Investors, of course, can, by their own behavior, make stock ownership highly risky. And many do. Active trading, attempts to "time" market movements, inadequate diversification, the payment of high and unnecessary fees to managers and advisors, and the use of borrowed money can destroy the decent returns that a life-long owners of equities would otherwise enjoy. Indeed, borrowed money has no place in the investor's tool kit. Anything can happen anytime in markets. And no advisor, economist, or TV commentator – and definitely not Charlie nor I – can tell you when chaos will occur. Market forecasters will fill your ear but never fill your wallet.
2016 Letter
Further complicating the search for the rare high-fee manager who is worth his or her pay is the fact that some investment professionals, just as some amateurs, will be lucky over short periods. If 1,000 managers make a market prediction at the beginning of the year, it's very likely the calls of at least one will be correct for nine consecutive years. Of course, 1,000 moneys would be just likely to produce a seemingly all-wise prophet. But there would remain a difference: The lucky monkey would not find people standing in line to investing with him.
2017 Letter
Charlie and I view marketable common stocks that Berkshire owns as interests in businesses, not as ticker symbols to be bought and sold based on their "chart" patterns, the "target" prices of analysts or the opinions of media pundits. Instead, we simply believe that if the businesses of the invests are successful (as we believe most will be) our investments will be successful as well.
2018 Letter
My expectation of more stock purchases is not a market call. Charlie and I have no idea as to how stocks will behave next week or next year. Predictions of that sort have never been a part of our activities. Our thinking, rather, is focused on calculating whether a portion of an attractive business is worth more than its market price.
2019 Letter
Charlie and I do not view the $248 billion detailed above as a collection of stock market wagers – dalliances to be terminated because of downgrades by "the Street," an earnings "miss," expected Federal Reserve actions, possible political developments, forecasts by economists or whatever else might be the subject du jour.
2020 Letter
The tens of millions of other investors and speculators in the United States and elsewhere have a wide variety of equities choices to fit their tastes. This will find CEOs and market gurus with enticing ideas. If they want price targets, managed earnings and "stories," they will not lack suitors. "Technicians" will confidently instruct them as to what some wiggles on a chart portend for a stock's next move. The calls for action will never stop.
Putting It All Together
Sir Warren is the most successful value investor and allocator of capital in history. This record and longevity speaks for themselves. Given his extraordinary success, he has very generously shared his brilliant insights and hard fought lessons, acquired along with the way, from the school of hard knocks. That said, given this discipline, unquenchable intellectual curiosity, and passion, he learned very quick from a few expensive mis-adventures, and course corrected.
Although I have nowhere close to the amount of talent of Sir Warren, and I certainly don't have access to the type of long term and patient capital either, we can all learn from his annual letters. I would argue that way too many people are getting too distracted, lost even, and perhaps getting swept up in the folly that market timing works. Yes, it can work, and at the extremes, such as 2000 – 2002, 2008- 2009, and in 2022, you can look like a genius. That said, if you're truly committed and engaged in the pursuit of becoming a better investor and trying to effectively allocator your capital, then market timing should be in your repertoire. I expressly wrote this piece to help re-orient people back on the yellow brick road. And remember, market timing, over long stretches, doesn't work, and it is a tremendous waste of your precious bandwidth.
In closing, I hope by spending a number of hours combing through Sir Warren's treasure trove of Annual Letters, that I provided enough empirical evidence that neither he nor Charlie Munger put any stock in the idea of market timing. And I would argue nor should you.