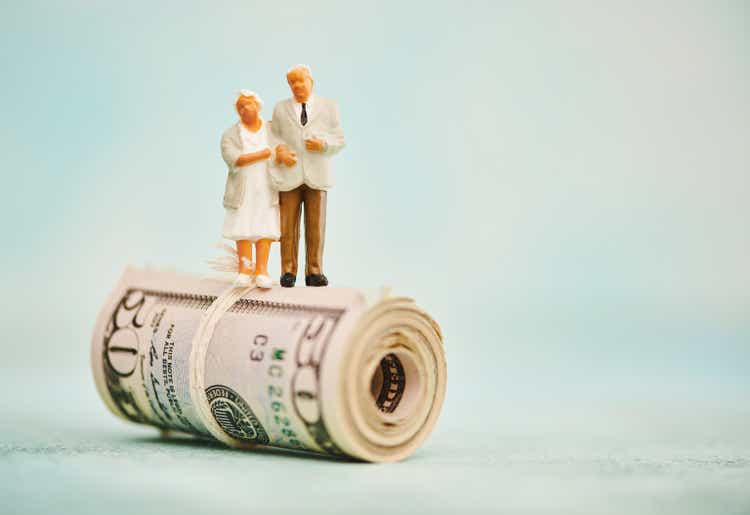 It's a new year, and investor sentiment will likely shift as macroeconomic variables remain volatile. In today's article, the SPDR S&P 600 Small Cap Value ETF's (SLYV) prospects are discussed as part of a portfolio style rotation strategy. Sure, buy-and-hold portfolios can provide lucrative returns; however, moderate style rotation could provide you with the edge you've been looking for.
The key drivers behind small-cap stock returns are often misunderstood, and today's piece addresses the dearth of research on small-cap securities from a statistical vantage point.
We're exceptionally bullish on small-cap value stocks going into the new year; here's why.
Small Caps & The Economic Cycle
Research Affiliates is a renowned factor investing research firm which aims to discover what makes assets 'tick'. They often leverage regression analysis to pinpoint an asset's key influencing variables.
The figure below is a regression performed by Research Affiliates, illustrating that U.S. small-cap stocks (the size factor) usually outperform an equally-weighted portfolio during recessions and economic recoveries.
Qualitative theory backs up the regression's results. Prior research suggests that investors opt for small-cap stocks during recessions because the market is forward-looking and believes it can find mispricings in the small-cap space during economic turmoil. In addition, it's well-known that small caps recover sharply in early-stage economic recoveries, as many of them experience balance sheet recoveries.
Seminal research by Eugene Fama expands the argument by stating that small-cap stocks generally outperform the broader market in the long term. However, they need to be undervalued on a price-to-book basis to ensure they're mean reversion compatible.
The SPDR S&P 600 Small Cap Value ETF is filled with small-cap value stocks that could rebound in 2023. I base my argument on my belief that the state of today's U.S. economy is situated between a slowdown, recession, or early recovery. It's difficult to say where the economy is exactly, as covid and geopolitical tensions have led us into an abnormal period. However, resilient inflation, the lack of monetary policy influence, and volatile global exchange rates affirm that the U.S. economy certainly isn't in a growth stage.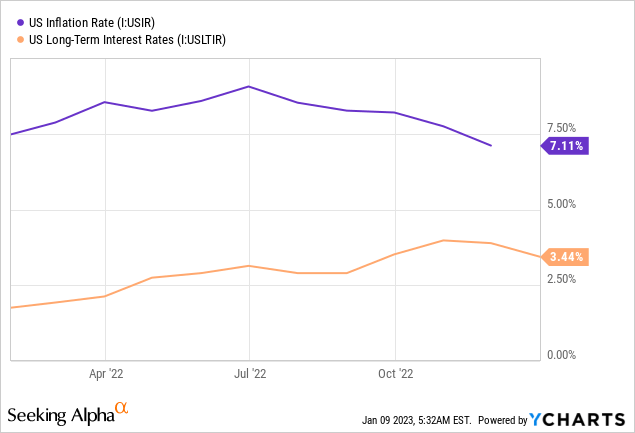 Main street's rhetoric is that the U.S. is likely to head for an economic slowdown in 2023, or at minimum, a recession. I think it's a good time to gain exposure to small-cap stocks as the probable price gain during a recession and subsequent recovery is tremendously attractive. In fact, it's worth bearing a slight loss in a slowdown to align oneself with the recession and recovery periods.
SLYV's Allocation
It won't be of much use running through each of the ETF's primary constituents as it hosts a hefty portfolio, with its top 10 stocks making up merely 7.22% of its portfolio. Thus, it's more productive to discuss the portfolio parsimoniously.
Most of the portfolio is allocated to cyclical assets, with consumer cyclical, financials, industrials, and real estate making up more than half of the ETF. If this were a large-cap ETF, I would be skeptical. However, small-cap cyclical and large-cap cyclists aren't the same thing. Small-cap cyclical assets often operate in niche markets, meaning their industry cross-correlations aren't as evident as with large-cap securities.
Moreover, this is a value ETF, and value is usually baked into cyclical assets, as countercyclical stocks normally trade at more consistent price multiples. Thus, investors are assuming risk to reap higher rewards by investing in this ETF.
Holistically speaking, the SPDR S&P 600 Small Cap Value ETF exhibits exciting value prospects. It's critical that we don't consider its price-to-earnings ratio in isolation. Sure, a PE of 10.32x is attractive as it underscores the SPY's (NYSEARCA:SPY) PE of 16.77x. However, its 3-5 year EPS growth of 8.37% is the real value add as it implies that the fund's average constituent will grow faster than benchmark GDP growth.
Furthermore, the ETF's price-to-book ratio of 1.31 is significantly lower than the SPY's PE of 3.58. Moreover, a price-to-book ratio below 3x is usually considered respectable for firms with significant sustainable earnings growth prospects.
It's Cheap, and It's Well Managed
This ETF is tremendously attractive from a cost perspective as it's less expensive than most ETFs. Therefore, it makes it easy for investors to manage their style-based portfolios actively as it won't rack up your transaction fees and provides broad-based style exposure.
Furthermore, I believe the fund possesses favorable Sharpe and Sortino ratios, indicating that it manages volatility and downside risk exceptionally well. In addition, the fund's positive active return is a good sign; this is a representative sampling fund, and excess active returns suggest the fund's managers are adding value (you're not investing in a closet fund).
Risks
As previously mentioned, the fund uses representative sampling, meaning it will usually have a tracking error (relative to its benchmark index). Although this doesn't necessarily provide price risk, it can provide uncertainty as you're betting on management's ability instead of your own style-based analysis.
Furthermore, the fund hosts a bulky standard deviation, meaning it will likely add to your portfolio's total risk profile.
I think the ETF's low dividend distribution is worrisome as it phases out carry return benefits, leaving investors in a position of predominantly speculating on price returns. This is a matter of preference; however, I personally prefer a balance between carry and price returns.
Lastly, a deep recession could sink the entire stock market in 2023. There are levels to recessions, and a continued economic downturn might be bad news for all assets, including small-cap stocks.
Concluding Thoughts
History suggests that small-cap stocks could outperform the broader market during trying economic times as investors look for "good deals". It remains uncertain whether the U.S. abated a recession in 2022 or whether it entered a contraction. However, the general economic outlook remains bearish, presenting investors an opportunity to invest in small-cap securities before their projected surge.
Furthermore, seminal research suggests small-cap value is in a prime position to outperform in the longer term, and the SPDR S&P 600 Small Cap Value ETF's valuation (and growth) metrics are aligned with the narrative.