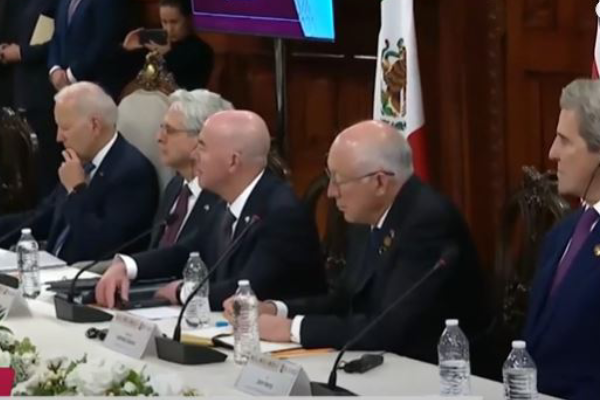 The North American leaders Summit taking place in Mexico has come to an end after two days of trilateral talks between the U.S, Mexico and Canada.
The three leaders discussed different issues ranging from migration to climate change.
[embedded content]
President Joe Biden has defended his handling of the border and thanked his Mexican counterpart for a willingness to accept Asylum Seekers rejected by the United States during a period of what he called the greatest migration in human history across the region.
In his remarks at the end of a two-day Summit with the leaders of Mexico and Canada, Mr Biden dismissed criticism from Republicans, Democrats and humanitarian groups calling them the extremes and saying he was pursuing a middle ground in his approach to immigration.
The president's comment followed several hours of closed door discussion with President Andres Manuel Lopez Obrado of Mexico and prime minister Justin Trudeau of Canada that also focus on climate crisis, drug trafficking
economic prosperity and trade.
All three men said the summit underscore the cooperation among their governments and played their long-standing disagreements and tension especially over the economic competition in energy and emerging Technologies like electric vehicles.
Mr Lopez Obrador also delivered the lengthy history of the changes in migration pattern over the past several decades and emphasises believe that the best way to prevent people from leaving their homes was to invest in making their countries prosperous and safe.
Mr Trudeau on his part emphasised economic cooperation on the continent saying the three leaders were all dedicated to driving economic growth that supports the middle class and those working hard to join it.
Other issues on Tuesday's agenda included renewed effort to combat trafficking of drugs and weapons in North America providing Administration.
Officials have been frustrated in the past two years with what they say is a lack of Mexican cooperation in drug investigations.
Early on Tuesday Mr Biden and Mr Trudeau discussed the close relationship between their countries as they continue to deal with what Mr Trudeau called very real challenges such as support for democracy around the world and climate change.